Back in 1995, serious car audio enthusiasts were busy building cars that would hold their own against most home systems in terms of sound quality.
Plus back in those days IASCA quickly became a hugely popular organization with thousands of registered competitors worldwide. And the enthusiasm for quality audio spread to salespeople and installers as well, and even those who were not serious audio competitors were concerned with the tonal accuracy and spectral balance of their car systems. People were very brand loyal, and each of the major brands had a very devout following of "believers." I recall a conversation I had with a very successful competitor during the IASCA finals in Oklahoma City. He told me that if he had to use anything but a Soundstream Reference amplifier in his system, he'd rather quit competing! And that's precisely the type of loyalty that has carried the Soundstream brand forward into the 21st century.

As a tribute to the very highly regarded Soundstream Reference Series amps of those car audio glory years, the folks at Soundstream have revived and updated the Reference Series in all it's previous splendor, right down to using the original heatsink tooling. To find out how the new Reference Series stacks up against today's competition, Grizz Archer; Product Marketing Manager at Soundstream sent me one of their Reference 4.760 four channel amplifiers for review.
FEATURES
If you have been around car audio since the mid 90's, you'll certainly find the look of the new Reference Series amps familiar. Using the same large heatsink footprint, the familiar blue Soundstream amps are back, although now the finish is anodized rather than powdercoated as in the past. Sporting gold plated panel mount RCA's, a dual color power/protection LED, and even retaining the fully insulated heavy duty wire connections of the old amps, you'd be hard pressed to tell it from its predecessors.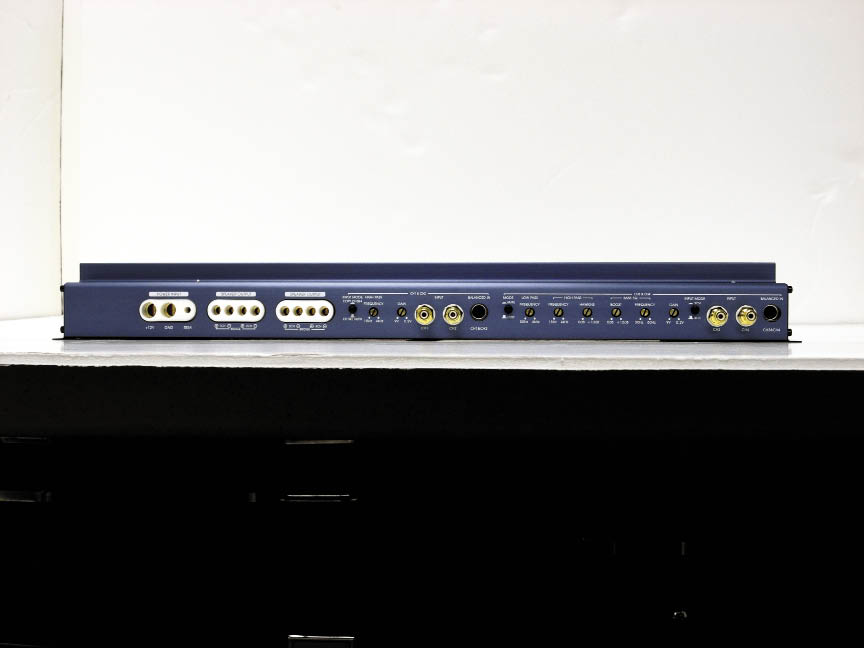 Also retained is the terrific input and control section that's loved by experienced tweakers, and sends newbie installers directly to the owner's manual for some direction. Even if you've been around this stuff as long as I have... read the manual anyways. It's refreshing to read a manual that not only provides the info you need, but a chuckle or two along the way. Actually, the front end of the amp is not really complicated; it's simply laid out in a bit of an unusual manner, but with good reason. Signal steering switches allow the installer to use a full fading configuration, or a single pair of RCA's can drive the whole shebang. The amount of input signal required can be from 200millivolts all the way up to over 8 volts. There are also fully balanced mini DIN input connections if you opt to send signal through Soundstream's optional balanced line driver. The Soundstream Ref 4.760 incorporates not only the usual high and low pass filter configurations, but it also provides the ability to bandpass the output. The amp is also supremely adjustable, with a frequency range from 15Hz all the way up to 4 kHz. Another old school but handy feature is the "Hawkins Circuit," which allows the tuner to apply boost at a specific frequency, and at the same time, create a filter to remove frequencies below the frequency being boosted. This works very well for tweaking the output of vented enclosures, or for dialing up the midbass without fear of mechanical excursion damage. In addition to the Hawkins Circuit there is also a traditional Bass EQ section, with 0-12dB of variable boost as well as adjustable frequency from 30-80Hz. I've played with Soundstream amplifiers many times before, and their preamp sections have always been excellent in terms of both functionality and performance. I was looking forward to seeing if the new amps would continue that tradition.
The Reference 4.760 is rated at 115 watts x 4 at 4 ohms, and 155 watts x 4 at 2 ohms. Oddly, it's rated at 380 watts bridged into 4 ohms, but that doesn't coincide with the 2 ohm stereo rating, so I considered it a misprint. There are no chassis mounted fuses, but Soundstream recommends an 80A fuse mounted externally.
I removed the bottom cover and had a peek at the guts of the big four channel. The power supply uses a pair of toroids, which are fed by 2 pairs of high current MOSFET power supply devices. Power supply capacitance is handled by six high speed, high temp 2200µF caps. The amplifier also has a reverse polarity protection circuit that keeps things from instantly vaporizing if you're being a bonehead and get the B+ and ground cable backwards.
As in years past, some of the power transistors are sandwiched between the PCB and the heatsink. This is where the power supply devices live in the Ref 4.760. The advantage to this design is that the heat from these devices is spread over a different part of the heatsink than the output section, which in theory at least, should provide better thermal performance. Speaking of output devices, each channel utilizes a complimentary pair of classic TO-3 large case Toshiba bipolar transistors. These are high voltage transistors, ideally suited to amplifier output applications. Secondary capacitance for the output section comes from a total of eight, 50 volt, 2200µF capacitors.
One of the reasons the front ends of these amplifiers are well known for clean quiet performance has to do with the use of higher performance polystyrene caps, as well as 0% tolerance surface mount resistors. Quality parts like this cost more, but the gains in performance are well worth it to critical listening enthusiasts and guys like me.
Read on for Results